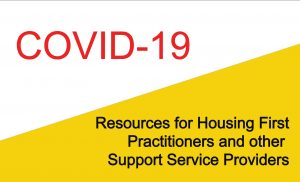 As the COVID-19 (coronavirus) situation unfolds there is a significant impact on homelessness service provision, as well as challenges specific to people experiencing homelessness that need to be sensitively considered and addressed in order to ensure that the most vulnerable populations within our society are protected, continue to provided with proper medical care and other support services, and have access to accommodation which is safe and appropriate for the service user or client.
Different countries are at different stages of experiencing the effects of COVID-19 and people experiencing homelessness are an especially at-risk group due to the complex health needs and social challenges that they are faced with every day. Sharing of knowledge and expertise from the sector across borders and between policymakers, service providers and support workers is especially crucial to help manage this crisis and ensure continuity of much-needed support services to some of the most vulnerable members of our communities.

Please find below a list of resources for people and organisations working in the homelessness sector and/or directly on Housing First, to help you navigate and adapt to the current situation. This list will be regularly updated as new resources and recommendations become available.
Thank you to all those who have already supported our sector by sharing practical guidance and useful information from frontline workers, service providers and other experts whose direct experience and insight is extremely valuable – please continue to do so!
---
Housing and Housing First Support during and after COVID-19 confinement
COVID-19 has significantly affected delivery of Housing First housing and support services, disrupting standard service approaches which rely heavily on face-to-face interventions. Taking into account the profile of Housing First clients–people who formerly experienced homelessness, a COVID-19 high risk group – the COVID-19 crisis raises a major challenge for routine work as mediation between clients and neighbours, damage or loss of keys, fires and floods, electricity and water supplies malfunctions, etc. To help teams to adapt, please find below two sets of guidance for providing Housing First support in light of COVID-19 public health measures, based on the current situation in England and Spain, with many thanks to Asociation Provivienda, Homeless Link, and DAHA for putting these guidelines together, as well as guidance on getting back to housing, fromthe Canadian Alliance to End Homelessness (CAEH).
---
Recommendations for telephone support for clients by Housing First teams during COVID-19 confinement 
Extract: Telephone support is a widely used tool in psychosocial support. Technologies can be used as a complement to face-to-face services, but also as a service on its own. It is especially useful for people with depression or suffering from distress, and when there are difficulties in physically meeting with clients.
In the context of the confinement declared by the Spanish government due to COVID-19, one of our Partners, HogarSi, has created a useful document to offer practical advice on how best to use the telephone and digital technology to give the best possible support to HousingFirst clients. Many thanks to Sam Tsemberis from Pathways Housing First Institute and Hilary Melton from Pathways Vermont for their advice and contributions, as well as to Focus Ireland and Cités Caritas for providing translations and adapted versions for France and Ireland.
---
Tools to help Housing First teams coordinate and deliver consistent support during COVID-19 Crisis
This spreadsheet template was prepared by DePaul Ireland and is designed to help Housing First support teams track contact with their clients/customers and updated information on their needs, to coordinate consistent service and ensure that  essential support is maintained while COVID-19 public health and safety measures are in place, even in the extreme event that the entire Housing First support team has to self-isolate or is unwell.
The Canadian Mental Health Association have also developed some tools for staff planning  and adapted service support delivery ≈ to help support teams plan and coordinate service delivery to clients while  COVID-19 public health and safety are in place.
---
COVID-19: Developing guidance that's specific to people who are experiencing homelessness requires some insight into challenges and complexities of being homeless 
Guidance developed on COVID-19 needs to take into account valuable insight from frontline workers, service providers and experts from organisations serving clients experiencing – or who have recently experienced – homelessness, who are faced with a specific set of challenges and complexities. Here you can find some useful information and insights into how to improve decision making and guidelines so that these at-risk and vulnerable members of our society are not left out of the practical and policy responses to the COVID-19 crisis