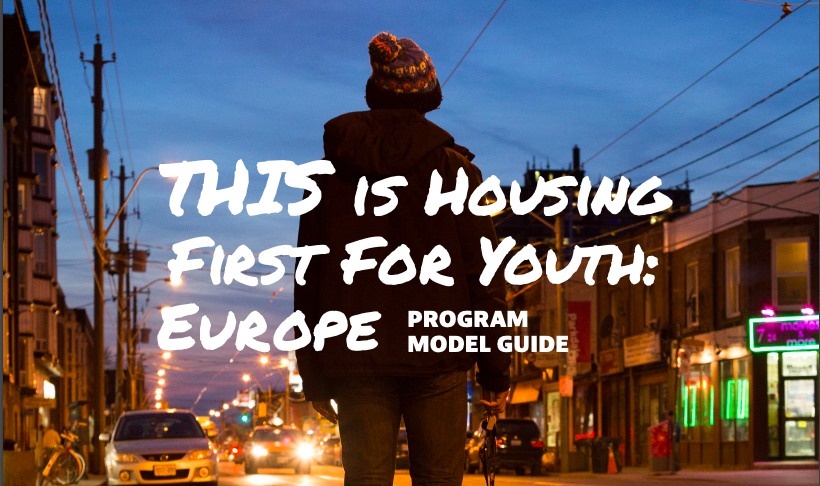 Working in cooperation with our partners in Canada, Ireland, Scotland and The Netherlands, the Hub is delighted to announce the publication of THIS Is Housing First for Youth – Europe – a programme model guide for starting up and running HF4Y in Europe.  
Over the past several years the Canadian Observatory on Homelessness has worked closely with the Housing First Hub in Europe to help establish HF4Y as the most comprehensive model of support for young people exiting homelessness in Europe. Currently, a number of HF4Y programs have been, or are being evaluated across Europe in Canada, providing a strong evidence base for this approach, as well as contributing to the continuous improvement of the intervention.
The Housing First Europe Hub is delighted to work with our Canadian partners on this definition of Housing First for Youth. Over the past several years, we have worked across the continent and the Atlantic, from Waterford, Ireland, to Kamloops, B.C. to West Lothian, Scotland, to St John's, Newfoundland to share knowledge, questions, challenges and successes. General knowledge and understanding of Housing First has gained traction in Europe over the past decade, thanks to a great extent to the success of Finland in using Housing First as part of a strategic approach to successfully reduce homelessness.
The implementation of Housing First for Youth is just getting started in Europe, however. Focus Ireland has led the way with pilot projects in Limerick and Waterford. Our network, the Housing First Europe Hub has supported Rock Trust to work with Almond Housing Association on a HF4Y pilot project in Scotland, with successful outcomes for the young people who are now living in their new homes. France will start a series of pilot projects in early 2020, working with colleagues from the Housing First Europe Hub to train staff and share our evaluation framework. Housing First for Youth is growing in countries like The Netherlands, Finland and Denmark as well. Our goal is to continue to support the understanding of HF4Y and promote it as a key part of coordinated strategies to prevent youth homelessness. We are grateful to the moral and intellectual support from A Way Home Canada and the Canadian Observatory on Homelessness since the very beginning.
Read or download the guide here:
This is Housing First for Youth: Europe – A Program Model Guide
Contact
The Housing First Europe Hub is actively working on advocacy tools, training and research, as well as supporting pilot projects on Housing First for Youth in cities across Europe and beyond. If you are interested in starting up, training staff, and or need help evaluating your HF4Y programmes, please contact: 
Samara Jones
Programme Coordinator – Housing First Europe Hub
samara.jones@feantsa.org