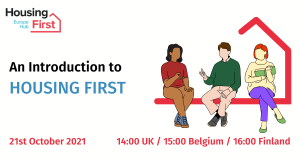 Registrations are now open for the training module 'An Introduction to Housing First' organised by the Hub!
The training will take place online on October 21, 2021 from 15:00 to 18:00 (Brussels/Paris time) and will introduce the basics of the Housing First model and its core principles.
Participants can join a session in either English, Dutch or Spanish. If you or people in your network speak either one of these languages, this is a great time for them to find out more about Housing First!
All those who wish to join may register here until October 19th.
Related reading: