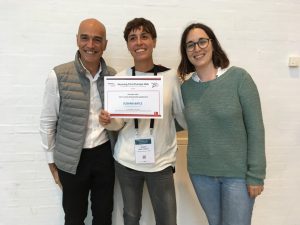 Congratulations to Susana Batle, who received the 2019 Housing First Early Career Researcher Award in recognition of her paper: "Ethical Relation and Control: Exploring Limits in Private Sphere of Home".
The paper was co-authored by Jezabel Cartoixà; Marta Llobet and Joan Uribe, and will appear as an article in an upcoming edition of the European Journal of Homelessness.
The award was presented during the 14th European Research Conference on Homelessness on September 20th, 2019 in Helsingborg, Sweden.
About the Housing First Early Career Researcher Award
Aimed at promoting the interest among early career researchers and the research community in general about the Housing First model across Europe, the Housing First Hub Europe Hub – in collaboration with the European Observatory on Homelessness – established an annual Housing First Early Career Researcher Award to acknowledge a relevant research article on any area of Housing First conducted in Europe.
The researcher must have finished their Graduate or Postgraduate studies in the 5 years preceding the call for papers for the award. Where the research has conducted by a team of people, the main researcher must fulfil this requirement. The article must be written in English and should not have been previously published.